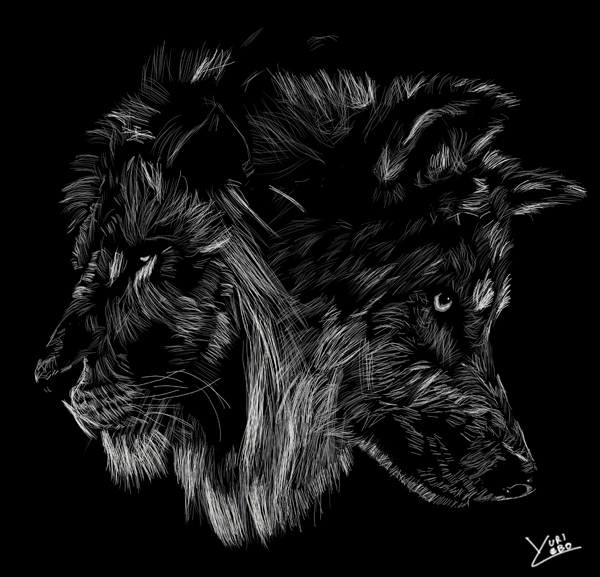 Wat een toeval! Ik lees twee keer hetzelfde verhaal op dezelfde morgen. Wat heeft het mij te vertellen?
Eén verhaal staat in de Gelderlander.
De workshop eindigt met een verhaal over een indianenvrouw, die er altijd gelukkig uitzag. Toen iemand haar vroeg hoe dat kwam, antwoordde ze: 'Ik heb twee wolven in het hart, een van liefde en een van haat. Welke wolf denkt u dat ik dagelijks voed?'
Het andere verhaal staat op abc-van-meditatie.
An old Cherokee was teaching his grandson about life.
'A fight is going on inside me', he said to the boy.
'It is a terrible fight, and it is between two wolves.'
'One is evil – he is anger, envy, sorrow, regret, greed, arrogance, self-pity, guilt, resentment, inferiority, lies, false pride, superiority, and ego.'
'The other is good – he is joy, peace, love, hope, serenity, humility, kindness, benevolence, empathy, generosity, truth, compassion, and faith'.
'The same fight is going on inside you, and inside every other person, too.'
The grandson thought about it for a minute and then asked his grandfather, 'Which wolf will win?'
The old Cherokee simply replied, 'The one you feed.'
Dus, wat heeft het mij te vertellen?
Dat ik een keuze heb. Er is altijd een keuze. Kies ik tussen goed of kwaad, black or white, angst of liefde.
Welke waarden wil ik mij cultiveren? Welke waarden wil ik tot wasdom laten komen. Het antwoord is duidelijk, de uitvoering vraagt kracht.